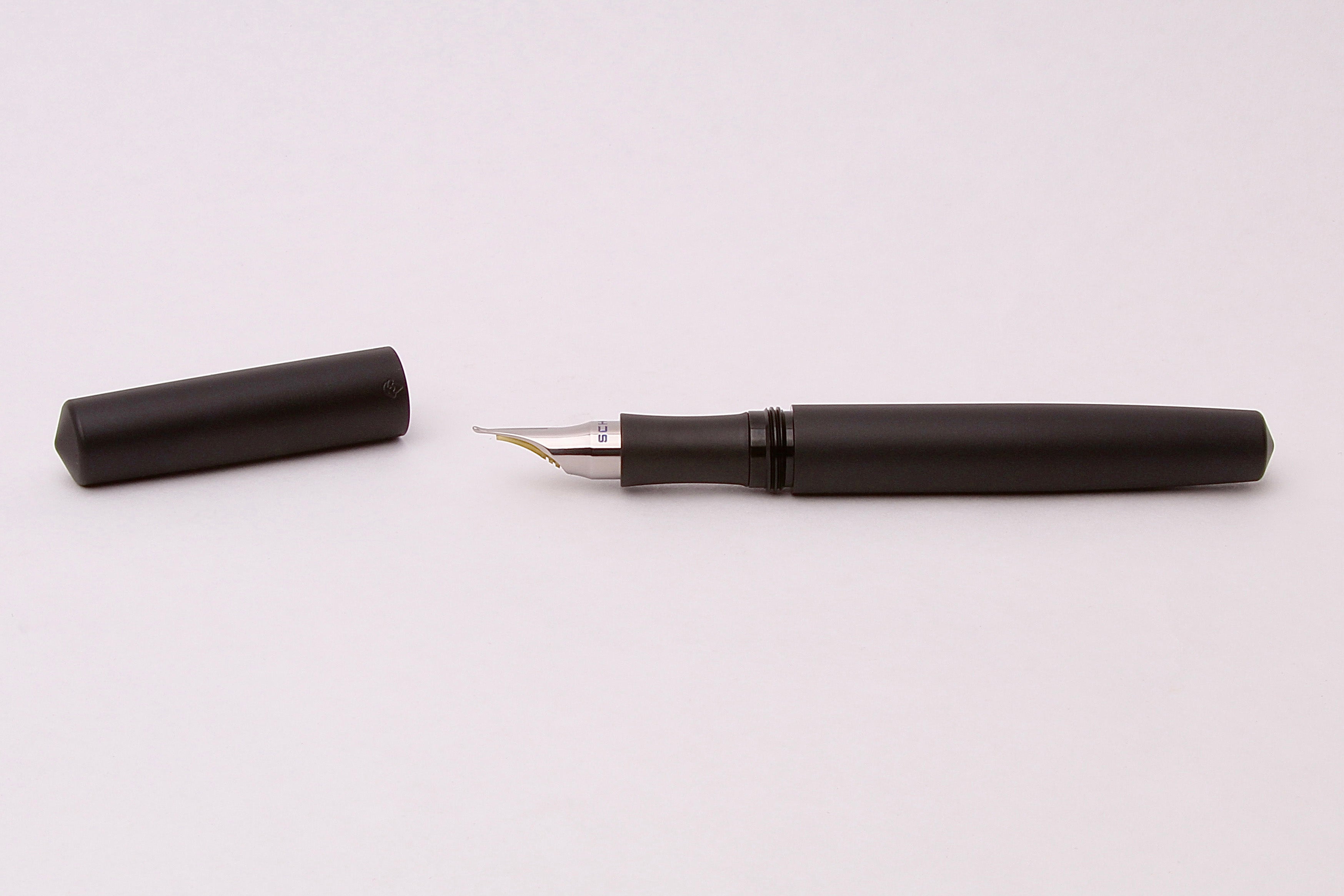 We have some huge news! After years of work, we are ready to launch our first in-house manufactured nib made from solid titanium! Introducing
The Schon DSGN Monoc Nib
! The name Monoc being short for Monocoque - mänəˌkōk-
French for 'single shell',
often used in aerospace and racing applications where the structural body and external shell of a vehicle are made from one solid piece.
Our Monoc Nib was designed, engineered and manufactured in its entirety in our Philadelphia workshop, putting us among a very small number of companies globally who have achieved this feat in-house. The Monoc Nibs are compatible with any of our fountain pens that also take a Jowo nib and will come in a variety of finishes and tip sizes that can be configured on our website and will be made to order in small batches. In addition to regular production, a small number of nibs have been allocated for purchase at each in-person pen show we are planning to attend this coming year. We are very excited to finally be releasing these into the world! 
Our Monoc Nib is unique in that it features an integration between the nib and housing/collar (hence the name), made possible by machining the entire structure from solid stock rather than producing it from stamped sheet metal and additional injection molded components. The titanium Monoc Nib, along with a precision machined Ultem feed, were designed in tandem and made within tight tolerances to ensure a quality flow of ink and careful management of air. This design approach and manufacturing technique allow for the utmost control of the system and eliminates fitment variables and potential points of failure inherent in more traditional three piece nib designs. 
With our unique approach of machining the nib from solid stock, we opted to utilize the properties of the Grade 5 titanium to create an integrated nib tip rather than welding additional tipping material onto the nib. This integrated nib tip allows for closer control of the geometry of the tip and writing surface, while the titanium offers a soft graphite-like quality that is a great writing experience. To achieve this specific writing quality, each nib is hand finished, assembled, ground, and tested to ensure it is ready for use. Due to the additional nib tip thickness of our design, the Monoc Nib is very friendly to customization as well. While some traditional fountain pen users may be uncomfortable with the idea of an integrated titanium tip, we feel the Grade 5 Titanium we use offers plenty of durability which negates the need for harder tipping material. As the use case and demands of fountain pens have evolved, we believe this to be an interesting approach to creating something new for contemporary fountain pen users. 
Another important quality of the Monoc Nib is that the thickness of the nib is variable and tuned throughout its body, enabling us to optimize durability and performance. Through early prototyping and customer feedback on existing titanium nibs, we found that in order to use titanium effectively as a durable nib material, we needed to be able to make the nib thicker and stiffer than existing 'flexible'  titanium nibs on the market today. The added thickness allows us to have a closer control of the deflection of the nib during writing, resulting in a smoother, more consistent writing experience. These nibs have a unique feel that is unlike anything on the market to date and is much more durable than other titanium nibs.
A red o-ring seal can be found around the nib that keeps it snug to the inside of the section/grip of the pen while it threads into place. The nib is compatible with all of our pocket and full sized fountain pens that also take a Jowo #6 nib. The nib's performance is optimized for using a converter and filling it through the front of the nib, though a cartridge also functions normally once the feed is properly primed and saturated. While it is eyedropper compatible, expect a wetter writing experience due to increased back pressure from the larger ink volume. 
This product's design and development was centered around creating a unique nib experience, a new approach to titanium as a nib material, and to pioneer a new method of nib manufacturing. We hope you enjoy our contribution to the fountain pen community and understand that this product is intended to offer something new and exciting rather than try to meet the needs of every customer. In our years in this community, with the help of our peers and customers we have learned that there is no one size fits all solution for pen shapes, sizes, materials, and especially nibs. Each customer has their own preferences and use case scenarios and we respect that. From those who have one pen inked a week to dozens or more, from modest collections to extravagant, there is no right or wrong way to enjoy a fountain pen. We are excited to launch this project and hope that our design philosophy, approach and product resonates with some of you and brings joy in the same way that it does for us to create it. Thank you all for your support of our workshop and pen manufacturing journey.
Purchasing information, options and pricing here.
-Ian Schon, Schon DSGN